Green Pool Clean Up: Clearing Up Algae Blooms In Gilbert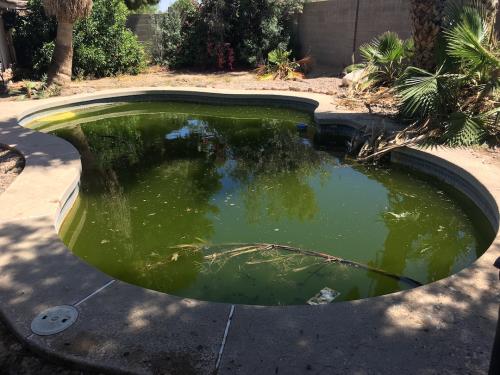 As Jason The Pool Guy, I take immense pride in providing top-notch pool service for Gilbert. When it comes to green pool clean up, I'm the expert you can rely on. With years of experience under my belt, I have honed my skills to transform even the most neglected and algae-infested pools into sparkling oases.
When I arrive at your green pool, I approach the task with a meticulous plan. First, I carefully assess the condition of the water and identify the root cause of the problem. Then, I employ industry-leading techniques and environmentally friendly products to eliminate the algae and restore the water's pristine clarity. My attention to detail ensures that every nook and cranny of your pool receives the necessary treatment. From balancing the chemicals to brushing the walls and vacuuming the debris, I leave no stone unturned in my quest for perfection.
So, if you're in Gilbert and in dire need of green pool clean up, look no further than Jason The Pool Guy. With my expertise and dedication, I guarantee your pool will be transformed into a refreshing oasis you can't wait to dive into.
Green To Clean Pool Service
When it comes to getting rid of algae and restoring pools to their original clear beauty, Jason The Pool Guy is the expert you can rely on. With a deep understanding of algae growth and its causes, I have developed effective strategies to tackle this stubborn problem.
First, I carefully assess the pool to determine the type and severity of the algae infestation. Then, using my expertise and high-quality treatments, I implement a targeted approach to eliminate the algae at its root. I use specialized products that only pool service pros have access to, ensuring maximum effectiveness while maintaining the balance of the pool's chemistry.
But it doesn't stop there. I believe in going the extra mile to restore your pool to its original beauty. I meticulously brush the pool walls, vacuum the debris, and fine-tune the chemical levels to create an environment where algae struggle to thrive. With my attention to detail and commitment to excellence, I guarantee that your pool will be transformed from a green nightmare to a crystal-clear oasis. Trust Jason The Pool Guy to bring back the true beauty of your pool and make it a delightful place to relax and enjoy.
Gilbert's Choice For Pool Cleaning & More
When it comes to green pool clean up services, Jason The Pool Guy is your go-to expert in delivering exceptional results in Gilbert. With a meticulous approach, advanced techniques, and high-quality products, I am dedicated to restoring your pool to its original clear beauty.
As a comprehensive pool professional, I also offer top-notch pool repair services to address any issues that may arise. From fixing equipment malfunctions to repairing leaks and cracks, I have the expertise to handle it all. With my commitment to customer satisfaction, you can trust that your pool will receive the utmost care and attention it deserves. Whether you need green pool clean up or pool repair services, I am here to provide you with a reliable, efficient, and exceptional experience. Enjoy a clean, healthy, and beautifully restored pool, all thanks to Jason The Pool Guy.
LET ME BE YOUR POOL GUY.
CONTACT YOUR POOL SERVICE COMPANY IN GILBERT TODAY!