Chandler Relies On Jason The Pool Guy For Top Pool Service Services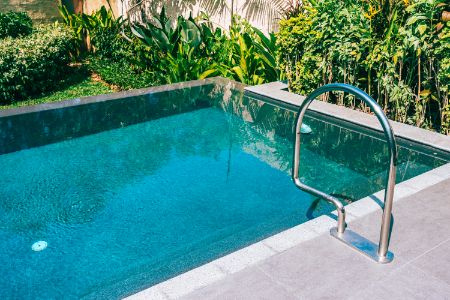 As the owner and operator of Jason The Pool Guy in Chandler, I take immense pride in providing top-notch pool service to the residents of this beautiful city. Chandler relies on me and my expertise to ensure their pools are in pristine condition, and I am dedicated to exceeding their expectations.
With years of experience in the industry, I understand the unique challenges that Chandler's climate can pose to pool maintenance. From scorching summers to occasional dust storms, I have honed my skills and knowledge to combat any pool-related issues that may arise. Whether it's regular cleaning, equipment repairs, or water chemistry balancing, I am committed to delivering exceptional service that keeps pools crystal clear and inviting.
Chandler residents benefit greatly from entrusting their pool maintenance to Jason The Pool Guy. With my reliable and professional service, they can relax and enjoy their pools without the hassle of maintenance. So, whether you're a homeowner or a business owner in Chandler, trust Jason The Pool Guy to keep your pool in pristine condition all year round.
For Quality Pool Service Chandler, Call On Jason
When it comes to pool services in Chandler, Jason The Pool Guy is the best person to call. I offer a comprehensive range of services to meet all your pool needs, including:
Green Pool Clean Up
Pool Care Services
Pool Equipment Installation
Pool Heater
Pool Repair
Recurring Pool Service
Variable Speed Pump Installation
And more!
With years of experience and a commitment to customer satisfaction, I provide top-quality service, prompt response times, and personalized attention. Whether you need routine maintenance, repairs, equipment replacements, or specialized services like green pool clean-up or pool draining, my expertise ensures that your pool remains in optimal condition. Trust Jason The Pool Guy for reliable, efficient, and professional pool services in Chandler.
Chandler's Top Choice For Pool Repair
I take great pride in being the top choice for residents in need of expert pool repairs. With years of experience and a deep understanding of pool systems, I have built a reputation for delivering exceptional service and reliable solutions. From equipment malfunctions and leak detection to plumbing issues, I have seen it all and have the skills to handle any problem that arises. I work diligently to diagnose the root cause of the issue and provide efficient and effective repairs that restore pools to their optimal functionality.
What sets me apart is my commitment to customer satisfaction. I understand the inconvenience that pool repairs can cause, and I strive to minimize downtime and disruptions for my clients. I communicate transparently, explaining the repair process and providing cost-effective solutions tailored to each individual's needs and budget.
When it comes to pool repairs in Chandler, choosing Jason The Pool Guy means choosing quality, reliability, and peace of mind. Trust me to handle your pool repairs with expertise and professionalism, ensuring that you can get back to enjoying your pool without any worries.
About Chandler, AZ
Chandler offers a blend of natural beauty and urban amenities. With its numerous local parks like Desert Breeze Park and Veterans Oasis Park, residents can enjoy outdoor activities and soak in the stunning desert landscape. Chandler is also home to notable buildings such as the Chandler City Hall and the historic San Marcos Hotel, adding to its architectural charm. With its unique offerings and appealing attractions, residents of Chandler can truly embrace the city's vibrant lifestyle. Whether it's regular cleaning, equipment maintenance, or water chemistry checks you need, pool services from Jason The Pool Guy guarantee sparkling clean pools all year round. With the advantage of enjoying Chandler's pleasant climate and stunning landscapes, you can enjoy your pool to the fullest while leaving the maintenance to me.
LET ME BE YOUR POOL GUY.
CONTACT YOUR POOL SERVICE COMPANY IN GILBERT TODAY!