Pool Inspections To Ensure Efficient Gilbert Pool Equipment Operation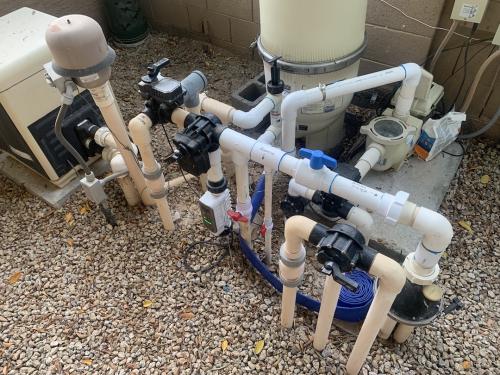 At Jason The Pool Guy, I offer thorough pool inspections to ensure the efficient operation of pool equipment in Gilbert. Regular inspections are vital in identifying potential issues, maintaining optimal performance, and ensuring the safety of your pool. During a pool inspection, I carefully assess all aspects of your pool, including the filtration system, pumps, heaters, plumbing, and electrical components. I pay close attention to details and use my expertise to identify any signs of wear, leaks, or malfunctions that could affect the efficiency of your equipment. By conducting these inspections, I can detect minor problems before they escalate into costly repairs or equipment failures. Additionally, I assess the water chemistry, ensuring proper balance and optimal water quality.
Following the inspection, I provide a detailed report highlighting any areas of concern or recommended maintenance. I believe in open and transparent communication, ensuring you are fully informed about the state of your pool and any necessary steps to maintain its efficiency and longevity.
With my pool inspections, you can have peace of mind knowing that your pool equipment is operating at its best, maximizing energy efficiency and extending the lifespan of your system. Trust Jason The Pool Guy for comprehensive pool inspections and other pool services for Gilbert and rest easy knowing that your pool is in the hands of a diligent professional.
Pool Equipment Inspector
As a qualified pool equipment inspector, I bring a wealth of knowledge and experience to every inspection. With years of expertise in the pool industry, I have developed a keen eye for identifying potential issues and ensuring the efficient operation of pool equipment.
I am well-versed in the intricacies of pool equipment, including filtration systems, pumps, heaters, and electrical components. I stay up-to-date with the latest industry standards, technologies, and best practices, allowing me to provide accurate and thorough inspections. Beyond my technical qualifications, I am committed to professionalism and attention to detail. I approach each inspection with meticulousness, thoroughly examining every aspect of your pool equipment and its performance. I take the time to listen to your concerns and address any questions you may have, ensuring that you have a clear understanding of the inspection process and the results.
With my qualifications and dedication to customer satisfaction, you can trust that I will provide reliable and comprehensive pool equipment inspections. I am committed to ensuring the safety, efficiency, and longevity of your pool equipment, allowing you to enjoy a worry-free pool experience. Choose Jason The Pool Guy as your trusted pool equipment inspector in Gilbert.
Gilbert's Pool Expert For Inspections & More
Here at Jason The Pool Guy, I offer meticulous pool inspections that are rooted in my extensive knowledge and experience in the industry. With a keen eye for detail and a commitment to customer satisfaction, I provide thorough assessments of pool equipment to ensure efficient operation and optimal performance. Beyond pool inspections, I offer a range of services, including pool pump and motor replacement, to address any issues identified during the inspection process. Whether it's routine maintenance, repairs, or equipment upgrades, you can trust that I have the expertise to meet your pool service needs in Gilbert. By entrusting your pool to me, you can have confidence that your pool will receive the highest level of care, ensuring a safe, enjoyable, and well-maintained swimming experience. Choose Jason The Pool Guy for professional pool inspections and comprehensive pool services in Gilbert.
LET ME BE YOUR POOL GUY.
CONTACT YOUR POOL SERVICE COMPANY IN GILBERT TODAY!